Have you also experienced this?
The problem with most of us is that we love the piano and we've always wanted to play. We're full of hopes of learning, but we very rapidly find ourselves in a rut. We don't really know where to start. We might sit down and try to figure out some things on the piano, but we don't really feel like we have much guidance.
What most of us try
Most of us try several things to get out of this rut. Our first idea is usually to go looking for piano videos on Youtube. The videos we find are often super-inspiring, but don't really allow us to replicate what we're seeing. It's hard to breakdown the beautiful songs the artists are playing and we quickly realize that we lack a method how to play this instrument.
So our next idea is to look for training. But that is often too much much of a time and commitment that doesn't work with our schedule. Not to mention it can be very hard to find an excellent piano teacher in many locations!
What we really need
Over the years, I've come to realize that there two main types of piano players.
On the one hand there are players who want to play a little bit for fun. They aren't that interested in practicing scales and boring exercises all day, but they want to learn the basics of being able to sit down at the piano and enjoy themselves.
On the other hand there are people who want to learn in a methodical, step-by-step method. So that they know they are starting out the right way, and setting themselves up for future success without developing bad habits.
My training is designed to help these two groups of people. I started to dream of creating the ideal piano lessons school. A course where I would be able to teach people from around the world.
In this course, you don't depend on your teachers availability or his coming to your country. It would allow interactions between the students and the teacher. It would be a fun and motivating course, where I see clear and rapid progress, but where you can work at your own pace from the comfort of your home.
Why I ended up created a Piano School
I've been teaching piano for many years now. I've seen hundreds of students progress rapidly, and I now even own my own academy with many teachers.
I love teaching and I love the piano, but lately with my own schedule and running an entire music school, it is simply impossible for me to take on new piano students!
That's why I decided to create pianoblog.com and to create these online piano lessons. I hope it will allow many new players to enjoy the piano and share the beauty of this instrument with friends and family.
What you will learn in this course:
As my piano student, you get immediate access to the lessons you purchase and have access to the them forever!
Here's what my piano students get:
1) You get immediate access to Lessons 8 and 9. This is 2 new weeks of extensive lesson material. Each lesson systemically builds on previous material, introducing you to the same musical foundation that I've used to train hundreds of students.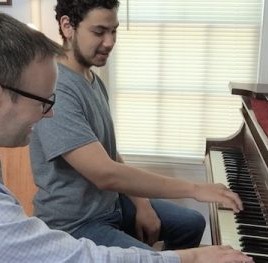 2) Music Theory: We learn about some very important new music theory concepts, including Steps and Skips and Sharps and Flats.
3) New Note Reading: We apply sharps and flats to note reading, so you know how to read them in sheet music.
4) New Music, Summer Night: In this piece we use our new sharp and flat note-reading skills as well as some extended hand positions.
5) Tutorials, Worksheets, and Bonus Materials: You get an extensive tutorial on the new piece Summer Night. I walk you through it step-by-step! You also get a worksheet to practice your sharps and flats skills, and lots of other bonus material. And remember you get a PDF of all the materials so you can print them out and practice at home.

6) Technique: We learn about the D-major Five Finger Pattern position, and how to transpose music into different hand positions! I also guide you through practice techniques for the 5 finger pattern.
My goal is the offer you the most comprehensive and step-by-step series of piano lessons on the internet. So in addition to the above, my students get:
7) A Monthly Video Q&A where I answer questions from students, no matter what level you're at.
8) Piano Tips, Checkins, and my Newsletter with information you won't find anywhere else.
9) Exclusive Access to our members-only Facebook group where you can interact with myself and other students. This is GREAT for staying motivated and asking questions!
Most tutorials teach you only the notes with no basic concepts or technique. But I have designed my lessons to offer you a correct starting point in your piano development. In fact, this is the exact same material I would teach you in one-on-one lessons.
All of this from a professional teacher who has worked with hundreds of students just like you.

How does this course work?
This course is video-based. I've created many short tutorials arranged into lessons and you get lifetime access to the lessons you enroll in. They will help you quickly progress, stay motivated and step by step you will master the essentials of the piano, musical notation, and technique. There are also notes for you as well as downloadable materials.
Who is this course for?
Are you starting at the piano but don't know where to begin? Do you want to learn the basics of musical notation and piano technique? Do you want to build on the lessons we've already had? Then these lessons are for you!
A Confession
Because of the way this course is designed and because you can advance at your rhythm and review at any time, I need to confess something: You will learn much more in this course than if you take many piano lessons with me, and at a much lower price. In fact, students routinely pay me at least triple the monthly tuition of this course for the same material.
Can I try this course risk free?
I'm confident that my lessons are the best available. That's why I offer a 30-day satisfaction guarantee. If you follow these lessons and are not satisfied that all that you learned, email me within 30 days and I'll reimburse you immediately. No questions asked.

Why you should sign in:
If you sign in and join Piano Lessons with Matt 6 and 7, you'll get immediate access to the next 2 lessons, bonus content and downloadable material.
So don't wait. Check out the course today!